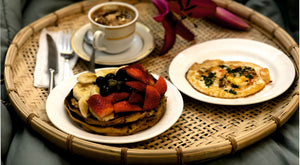 Handcrafted Table Decor and Dining
---
Handcrafted Table decor and serveware from across the country.
Choose from a variety of handcrafted products for your table, kitchen and home - placemats, runners, coasters, trays, baskets, tissue holders, bottle caddy, organisers, bread baskets, fruit baskets and wine gift bags.
These natural fibre products not only add an earthy flavour to your space but also are eco- friendly and sustainable.
Perfect conversation starters, these Indian craft based products handcrafted by women artisans in various rural areas, represent our rich culture and legacy of Indian Folklore.


---
---