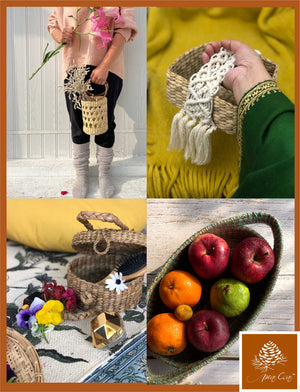 Our Story
Pine Cone™ is a craft based home decor initiative. Here we celebrate the lesser known crafts of India, handmade with love by the artisans in remote parts of rural India.
We engage with artisans of age-old crafts (90% of them are women), help them to upgrade their craft and skills to make the art more utilitarian and commercial and to transform the craft into beautiful home decor pieces that would decorate Indian homes and beyond.
We are proud to be completely handmade and handcrafted in India and are working on various  crafts from different parts of India including North East Region, Himachal Pradesh and Jammu region.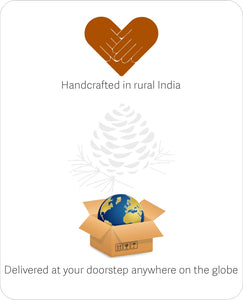 International Shipping
Hurray! Now we ship outside India too. For any destination outside India, do write to us at contactus.pinecone@gmail.com or support@pineconeindia.in with your requirement and we will get back to you!
Indian Rattan wine Holder
This handcrafted cane (Indian Rattan) wine holder is painstakingly handmade by our artisans. Each ring is hand-turned with the help of heat and mould and is perfectly shaped into this contemporary Wine holder which works perfectly for gifting wine to your loved ones.
Featured